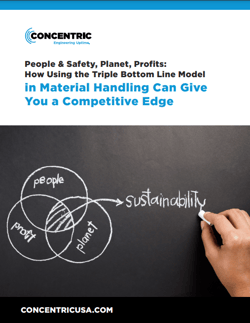 Most great companies have sustainability initiatives of some kind. But the problem is, their ambitions don't align with their actions.
Large sustainability budgets exist with minimal results or impacts. And many employees tasked with sustainability feel they're paper pushing.
An effective sustainability project delivers on three fronts. Safety and wellness for employees, the environment, and economics. What we refer to as your people & safety, planet, and profit. A triple bottom line approach.
Your material handling is a proven sustainability initiative that's often overlooked. And it touches all three of those areas.
Learn why your material handling should be your next sustainability project.
Download your free viewpoint doc now!
Download Your Free Viewpoint Doc!