The CRITICAL Power Scorecard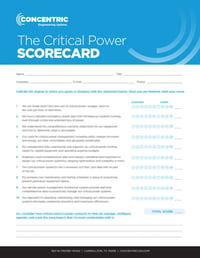 We've all heard the horror stories of what can happen when the power goes down—sometimes, for days or even weeks. In the best-case scenario, you lose money, time, and trust. In the worst-case scenario, your company never truly recovers.
That's why critical power is so important.
When you can't afford downtime, you have to be absolutely confident that your critical power system will bridge the gap without any delay. Your company's future—not to mention, your job security—depend upon it.
Concentric Critical Power's unique approach can:
Curious if this could help you?
The Critical Power Diagnostic Scorecard is a simple diagnostic tool we've created so you can see how well you're doing in less than 5 minutes.

Download and complete this scorecard today to find out if you're truly managing your vulnerabilities.
Get Your Score Now!