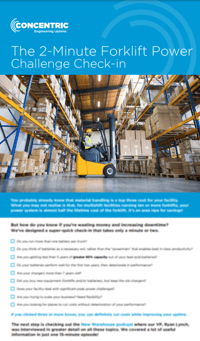 Is your boss asking you to keep up with Amazon—but he also wants you to slash supply chain costs and increase uptime?
What if we told you there's a secret, often-looked link in your supply chain that can help you reduce cost and optimize productivity?
It's your forklift power system.
If you run 10 or more multi-shift forklifts, your power system is almost 50% of the cost of the forklift over its lifetime.
That means there's a lot of opportunity to save big. Not only that, you can increase uptime.
So, take a sip of coffee and download our Two-Minute Forklift Power Challenge Check-in. If you check three or more boxes, you can definitely optimize your costs.
Try it now! You've got two minutes to spare—and the results might surprise you.